Managers are known to be one of the most versatile professionals in the corporate world. They are working every day in the organization with people from diverse backgrounds and with a different skill set or expertise. In order to work with them the manager must acquire and learn a lot of skills (both technical, human and conceptual) to effectively lead his / her staff and carry out tasks effectively. One of the most important skills a manager must have is the decision making skill.
What is decision making?
According to BusinessDictionary, decision making is the "The thought process of selecting a logical choice from the available options". In order to come up with a decent and strong decision that would create a big impact in the organization, a manager must be fully informed of the problem that needs to be decided and come up with as many options as possible. More important, a manager must always practice making informed decisions in order to minimize risks associated with bad decisions made.
Managers in Information Systems (IS) decision making
A manager should possess the following skills in order to have a smooth and effective decision-making process with the IT support organization:
Single mindedness: Managers tend to be biased when making decisions. They often think on how will his subordinates and colleagues respond to such decision instead of knowing what effect it would bring to the organization as a whole.  In order to make good decisions managers must put all biases aside and focus on what really needs to be decided. But then always keep in mind the ethical treatment of the stakeholders involved in making such decisions.
2. Critical Thinking: In making a decision, especially the big ones when the life of the company is at stake, managers must think thoroughly before making any statements. Hasty decisions often result to poor results and these are the common causes of inefficiency in the workplace. Managers must compare the pros and cons of each decision and seek professional help whenever possible.
3. Taking Responsibility: Sometimes a decision would bring the company to a jackpot. Oftentimes it would lead to demise of the organization and people would start pointing fingers. Whatever the result of the decision is, managers must at all times stick to it and take responsibility on whatever the outcome of his decision would be. Some employees might be upset on the results or the senior executives may express disinterest, it is somewhat noble for a manager to recognize the risk of making such decision and accept the consequences. After all that's been said and done, the operations would still go on and eventually people would forget it.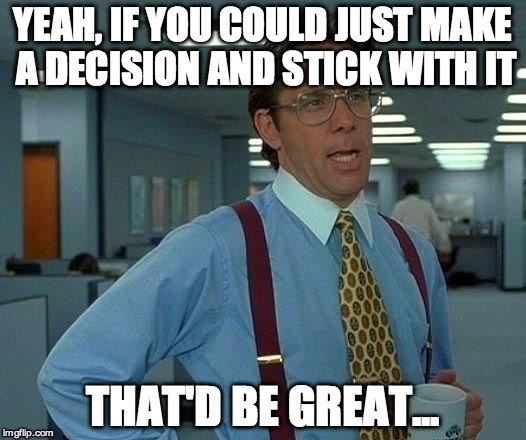 These are just some of the skills needed in decision making, actually there are more of them. It does not only apply to IS decision-making but it is also applicable with any decisions being made in the company as well.